We are proud to announce that Kallpachay's Summer Camp is officially underway at Judson's International School in Pasadena!
The private school campus has ample space indoor and outdoor, and has proven to be a great place for  Spanish adventures to begin.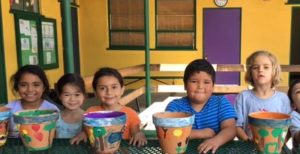 The campers are having a blast thanks to the team efforts of lead teacher Angela Alverado and assistants Kristen Hollenback and Wendy Carrasco.
Angela, who was born and raised in Los Angeles, has been a life long educator. She has experience teaching in classrooms, summer camps, and after school programs, and is very excited about the progress she has already seen from her first group of campers this session.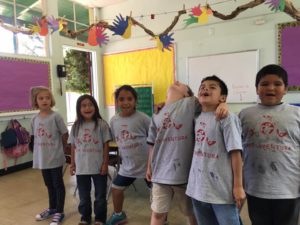 Angela admits that, "the most difficult task as a Spanish teacher is the balancing act between having fun and ensuring that progress in Spanish acquisition is taking place."
This is Angela's first year working with Kallpachay's immersion approach.  Using their tailor made curriculum she notices how having fun and learning are one in the same.
It's the end of a camp day and Angela just finished leading the group in their favorite camp songs during the closing circle.  Some of the children are waiting to be picked up, and as Angela and I talk we watch as they congregate and direct themselves in a game that was taught earlier in the day.  Instead of rushing to play out in the yard they choose to extend their learning time.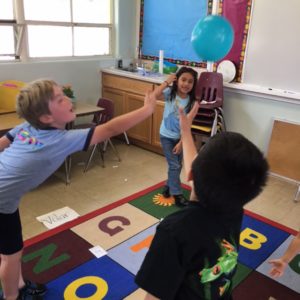 Campers are playing keep it up with a balloon and shouting out Spanish theme words they have been using all week.  They giggle and laugh as they chase the balloon waiting for their chance to chime in : loro, cocodrilo, mariposa, rana ….. Angela and I smile knowing that there is definitely learning going on.
The best way to learn anything, especially with children, is through games. That's what is linking lessons throughout Kallpachay's tailor made curriculum. Campers respond positively to this balance of-songs, arts and crafts, sports, activity pages and, most importantly, games.
Angela is also a talented face painter, and she explains all of this to me with her face painted as a tiger. It's hard not to crack a smile.  Celebration day for this week's theme includes animal face painting!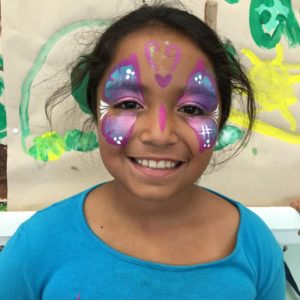 But she insists that the summer camp is not all fun and games. These kids are here to learn. As with most things, learning Spanish is not about talent or natural ability. It comes down to effort, time, and most importantly, consistency.
Children love to learn and be creative, but they have to do it in a structured and consistent environment. That's why Kallpachay focuses on routines, and a daily structure that becomes second nature to students by the end of the week.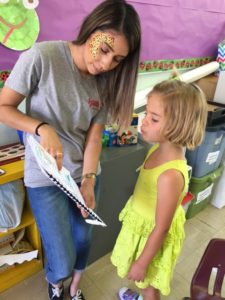 "The ultimate goal is getting these kids comfortable speaking in Spanish to us, as teachers, and each other, as peers," Angela says.
It's only day three, and it looks like they're off to a great start. Pasadena's camp goes from 6/6 to 6/17, and then 7/11 to 8/05. There's plenty of space available, so you can still sign up and have your child Play their way to Spanish too!
Have a wonderful day and summer.
-KPY