After a slight delay at the airport, I arrived in Bogota, Colombia at around 2:00 P.M. local time. I made my way throughout the massive El Dorado International Airport, contacted my friend Maleja and met her outside.
"Bienvenidos a Colombia," she said to me smiling, as I hopped in her car. The adventure had officially begun, and it was time to switch into Spanish mode. I gave her a single kiss on the cheek, which is how people generally greet each other in Bogota. I had made the mistake of doing the Spanish style two kisses (one on each cheek) a year before.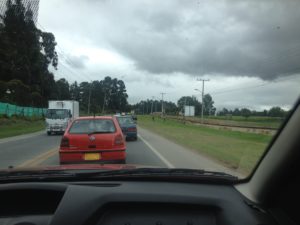 I met Maleja a year ago in Medellin, and she had also let me stay with her when I visited Bogota. A year later, I was back, and she allowed me to stay with her once again. We excitedly spoke as we drove through the city.
It looked as though it had just rained. It was colder than I had remembered, but just as green. The sky was a deep, intense blue. Being over 8,000 feet above sea level, the air was crisp and felt noticeably thinner. Bogota is massive, larger than Los Angeles, and twice as populated.
If you think Los Angeles has bad traffic, you should really visit Bogota! They have a policy called "pico y placa," where cars are restricted from driving on certain days, based on the last number of their license plates – and it doesn't seem to work. The streets are huge in some places, at least five lanes across, and tiny (only one small road) in others. People from Bogota drive like crazy people, not necessarily respecting the lanes. The horn is used often, and everyone drives their stick shift cars in a way that makes it feel as though you are in the middle of a highly contested go-kart race.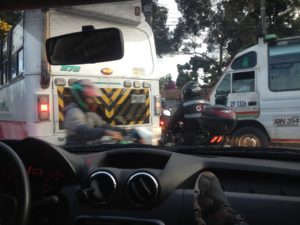 Maleja doesn't live in the city, but instead to the north in a town called Chia. It takes about an hour to get to her house, but we are able to drive throughout a good chunk of Bogota – the good parts, the bad parts, and the rural parts. The closer we get to Chia, the more farm land there is. Cows and goats are tied to fences, and large groups of stray dogs roam the streets, barely moving out of the way of oncoming traffic.
We arrive to her house, which is a massive brick structure in a beautiful gated community. I spend the majority of the next week with Maleja and her extended family – which is very large. She lives with her two parents, two younger siblings, three cousins, the live-in housekeeper, as well as the housekeeper's daughter. If your keeping count, that's 11 people, including myself.

This was without a doubt the best part about my Colombia experience, and a huge reason I love Spanish speaking countries so much. Everything is centered around family, and it's a huge part of the culture. Coming from a relatively small family, it is always amazing to see how important family ties are.
As Maleja worked full time, I spent just as much time, if not more, with her family – who spoke zero English. Through their kindness, I learned a lot about Bogota, as well as Colombia. The housekeeper is actually from Barranquilla, located on the northern coast of Colombia. She cooked for the entire family, preparing delicious meals that always included Colombian staples – rice(arroz), beans(frijoles), and fried plantains(patacones).
I ate a lot, and everything was fantastic. My favorite plate was absolutely the "bandeja paisa," which includes generous amounts of – you guessed it – rice, beans, and plantains, as well as three different kinds of pork, a generous portion of avocado, and a Colombian corn tortilla, which is called an "arreipa."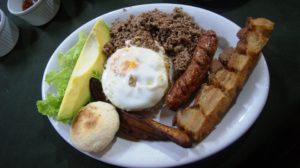 Colombia is known for it's coffee; it is the third largest producer in the world.  However, I quickly realized that I was the only coffee drinker in the house. Even more interesting was that most of the good stuff is exported, and most Colombians drink "tinto," which is a noticeably lower quality product.
During my time at the house, I got to know Malejas parents, siblings, and cousins very well. Her father had been practicing some English, but it was visibily difficult for him to pronounce many English words. Spanish from Bogota is quite easy to understand, in comparison to other dialects in Colombia, although Colombians don't open their mouths much while speaking. This means a lot of words are said essentially spoken through their teeth, and that can be tricky.
There are certain words in Colombia that aren't used in Mexican or Castillian(from Spain) Spanish. The two most common are "chevere," which means cool, and the verb "rumbear," which means to party. These two words happened to come up a lot in conversation.
Although I definitely didn't understand everything that was said at these massive family meals, I was able to catch most of it, and my Spanish improved drastically over the first portion of my trip.
I ate well, and was able to spend the 5 days relaxing, speaking Spanish, and getting acclimated to being in South America. It was the proverbial calm before the storm.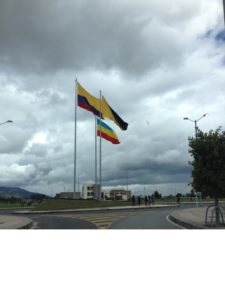 Before I knew it, I was heading back to the El Dorado Airport, ready to catch my next flight, where my next destination awaited: Rio De Janeiro, Brazil!
To be continued…